About Us
Techtronic Industries (TTI) is a global leader in manufacturing technologically advanced products accommodating all end users with sustainability, resilience, and people at the core of our operations. We are included in the Hang Seng Index as one of their constituent stocks and have been listed on the Stock Exchange of Hong Kong since 1990. We maintain a powerful brand portfolio, global manufacturing, and product development footprint, as well as a healthy financial position with record worldwide annual sales. Our ongoing success is driven by our exceptionally talented team, innovative technology, and vision for sustainable global cordless dominance.
Strategic Drivers
As TTI organically grows, we continuously strive to balance efficiency and build resilience through ongoing research and refining key concepts for sustainable driven partnerships and initiatives. Early on, our leadership identified four strategic areas that drive our success: Operational Excellence, Exceptional People, Innovative Products, and Powerful Brands.
The synergy of our four strategic drivers creates a culture of disruptive innovation and execution. This dynamic structure of interconnectivity not only maximizes growth and improvement in every area of our company, but also delivers the innovative, high-quality driven products needed by consumers and professionals around the world.
Our trusted Powerful Brands stand for innovation, outstanding quality, and user desirability.
Our Powerful Brands are recognized leaders throughout the world. While staying focused on our core values, we strategically invest in our leading brands to build trusted customer loyalty, maintain margins, and optimize retail placement. The foundation for all current and future growth lies in our brands because of our commitment and respect to them and to all of our end-users who invest their confidence in us.
Innovation is the fuel behind sustainable growth.
Our company is delivering a tidal wave of change in multiple industries with its cordless technology leadership. We have a great network of "Innovation Centers" teeming with talented engineers, product designers, software programmers, researchers, and product managers who are focused on new products and technology development. Our relentless focus on cordless innovation is the key to entering new markets, expanding our market size, and accelerating our growth.
Our employees are the compass to our success.
Hiring the right people and professionally developing them through our Leadership Development Program is the key to our on-going success. Our people drive a high-performance culture across all levels of our organization and help to achieve our vision of being number one in the industries we serve. We view our winning culture as a competitive advantage that powers our growth.
Operational Excellence is the engine that provides the power to innovation.
We are process driven and committed to examining every single aspect of bringing a product to market. We closely examine every detail from design engineering to supply chain logistics in order to eliminate waste and improve productivity. We are proud of our global culture of never-ending improvement with manufacturing footprints on several continents providing the quality, speed-to-market, efficiency, and flexibility for each geographic market.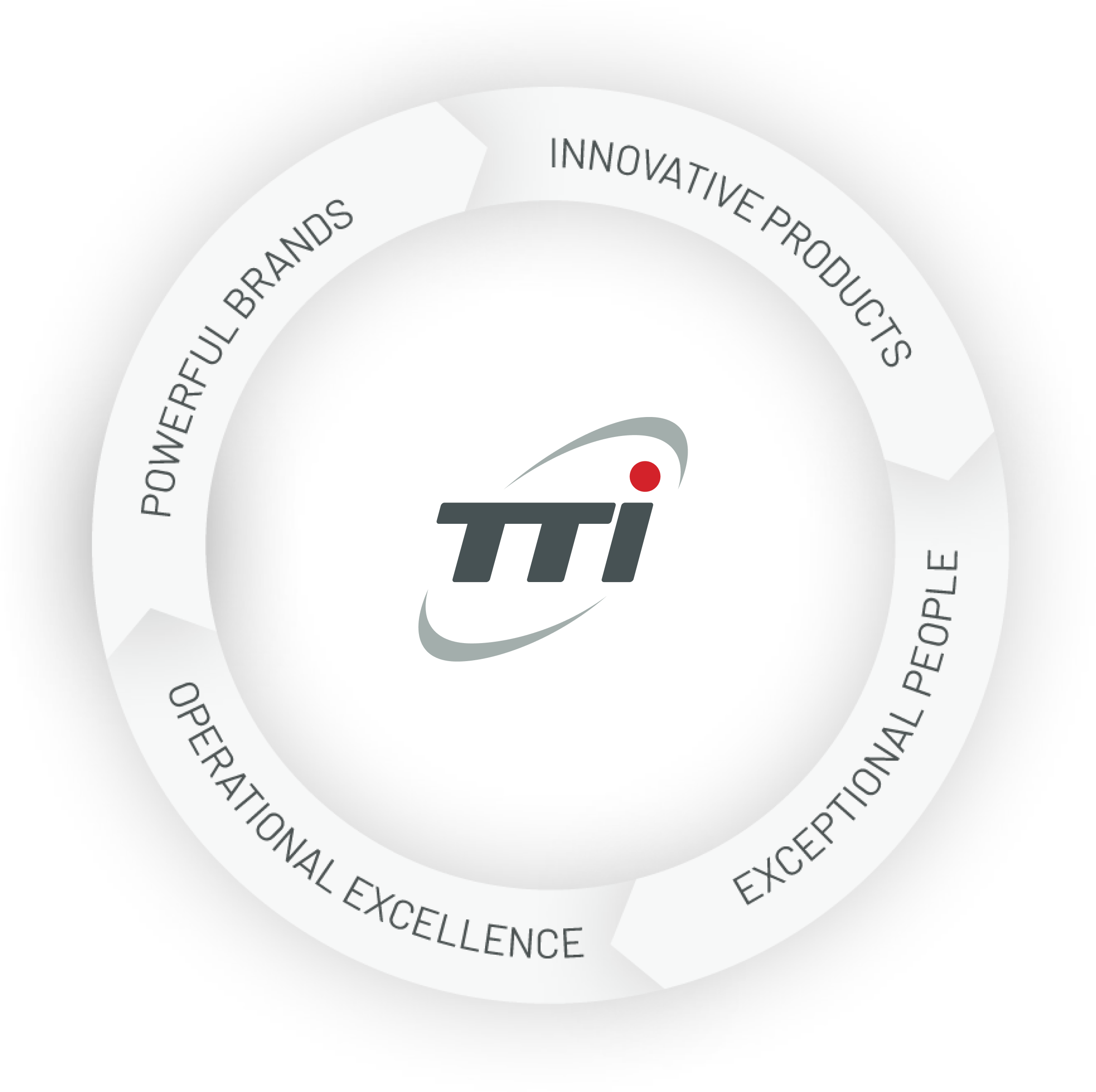 Our Mission, Values & Quality
TTI is dedicated to improving the lives of homeowners and tradespeople around the world.
We are a world leader in cordless technology spanning Power Tools, Outdoor Power Equipment, Floor Care & Cleaning for the consumer, professional, and industrial users in the home, construction, maintenance, industrial, and infrastructure industries. Our dedication to company-wide innovation has led to our cordless leadership position across all product categories that is transforming how work is conducted in these industries.
TTI communicates and enforces the Values that drive our behavior.
Our values are the foundation for all decision making and provide the guideposts for every internal and external interaction. We are diligent in ensuring that our values penetrate every level of our organization that translates into trusted relationships and long term brand loyalty.
From day one, Superior Quality was the primary focus for TTI.
It is important for our employees to understand our holistic approach to quality. This means understanding that quality permeates every element of our organization, from product design to manufacturing, from hiring processes to continuous leadership development training, and from supply chain execution to day-to-day consumer and professional interactions. Quality is the DNA of our culture.
Are You Ready To Power Your Way To A Successful Career?
Click below to find an opportunity near you.